Honda Racing

Limited Edition
Gallery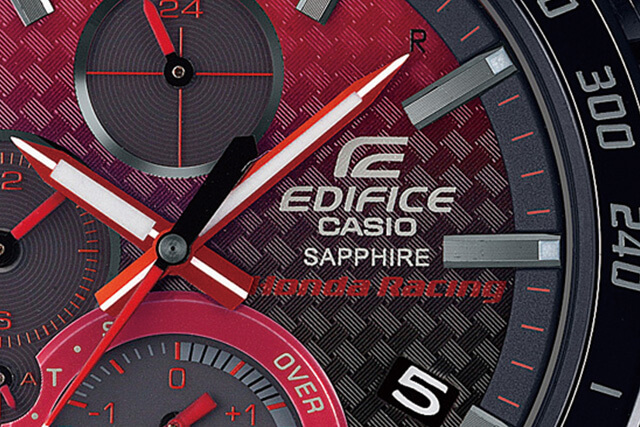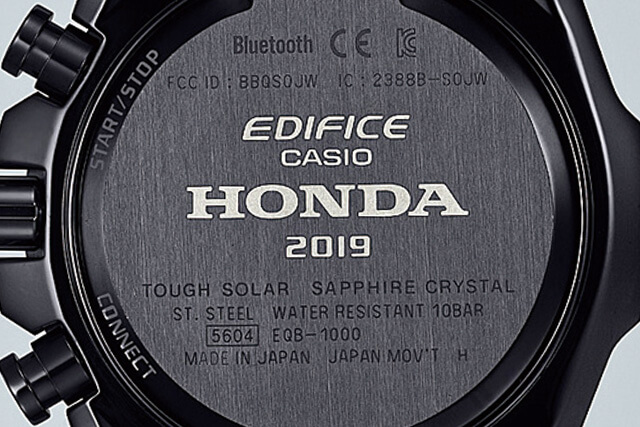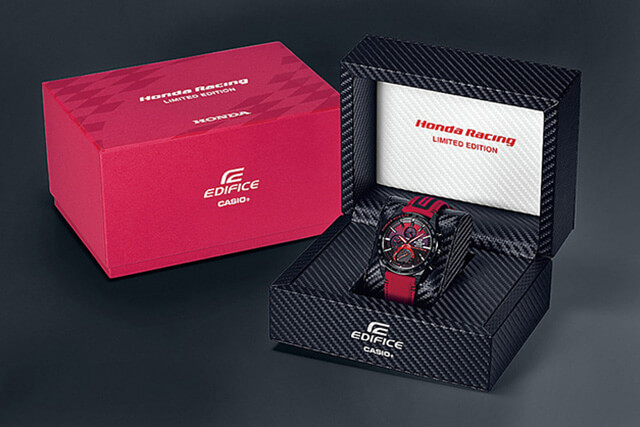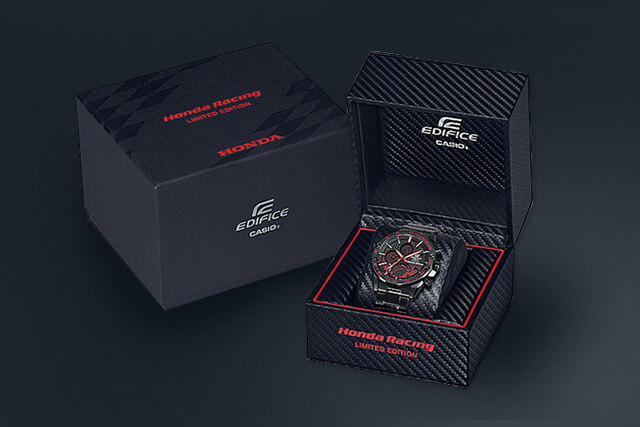 High-level Formula 1 power unit technology on your wrist.
Honda Racing and CASIO EDIFICE collaboration watch
CASIO EDIFICE Honda Racing LIMITED EDITION
The original Honda Racing and EDIFICE collaboration watch model was released on 2018.
This is the story behind efforts that went into incorporation of special material that is used
in Formula 1 power units into the second generation of this collaboration.

Hideyuki Arai
CASIO COMPUTER CO., LTD.
Hamura R&D Centre Timepiece Product Division
Product Planning Department
Chief planner
Yasuaki Asaki
Honda R&D Co., Ltd.
Operating Officer In Charge, HRD Sakura
Head of F1 Power Unit Development
── The EDIFICE watch model made possible by collaboration between CASIO and Honda has gone on sale. I would like to ask about the process that led to its creation.
ARAI:About two years ago in October 2017, I went to the Japan Grand Prix where I asked Honda, who are the top engine maker in Japan, if they would be interested in applying their technology to one of our watches. Our discussions got started when I asked them to introduce their state-of-the-art technology to us.
── Then you visited Tochigi for actual development?
ARAI:The thing that had been of most interest to me for some time before that was the materials Honda was using within their Formula 1 technology and what the issues were they needed to take into consideration during development. I was particularly interested in finding out whether materials that improved the performance of a Formula 1 power unit could also be used to improve the performance of a timepiece. Then one day as I was talking with a Honda engineer, he told me about titanium aluminide, which is a material we ended up using for new model. I remember his words to this day, "Valves are the components that move the most, and they are one of the factors that determine engine performance." It was from then that I started to think I really wanted to find a way to incorporate valve material into a timepiece.
ASAKI:Titanium aluminide is a very special alloy. It is extremely hard, yet lightweight and rigid. On the other hand, a metal with such characteristics is also brittle, so I think it is extremely difficult to use it to create components. It is extremely difficult to work with.
ARAI:Titanium aluminide is cut using a tool bit (single-point cutting tool), and even a slight nick in the tool blade can result in immediate cracking of the material. After conducting various different tests, we ended up using six different types of tool bits for cutting.
── What did you think when you heard that this material would be used?
ASAKI:Should we do what needs to be done to make it or give up? [laughing]
ARAI:We also used a diamond-like carbon (DLC) coating for the surface finish of the bezel. This is also technology that is used to produce the values of a Formula 1 power unit.
Asaki:DLC is a relatively common technology for racing engines to protect sliding surfaces against wear. I believe it provides a very high level of protection against damage.
── Is it expensive?
ARAI:More than I expected. [smiling wryly] Working with the material is tough so at first I thought maybe we should reduce the number of models to be produced.
―― With all those difficulties to overcome, how did you maintain your motivation?
Arai:The fact that we were able to do a tie up with Honda and incorporate some of its technology into a CASIO timepiece was a big factor. Also, we felt that this was a good opportunity for EDIFICE, which we see as a timepiece that embodies the world of motor sports, and so we wanted to do everything possible to see it through.
ASAKI:For a race as well, it's not just about the materials we use, there are also production technology challenges that need to be met. If you are unable to produce a vehicle, you won't be able to race. This is similar to the struggles we faced to create this tie-up model.
── To what degree are you satisfied with what you were able to achieve with the tie-up model?
ARAI:We are completely satisfied. This new model is deserving of its position at the very top of the EDIFICE brand hierarchy.
ASAKI:The design of this watch accurately reflects both the passion and speed of the racing world.

We wanted to create a watch
that made it possible to wear
advanced Honda Racing technology on your wrist.
── Hideyuki Arai, CASIO COMPUTER
I know how hard it is to work with
the titanium aluminide material
that went into the production of this watch.
── Yasuaki Asaki, HRD Sakura
Titanium aluminide: Super-lightweight, super-rigid material developed in attempt to achieve a rotational speed of 20,000 rpm
The titanium aluminide alloy used for the bezel of the EQB-1000HRS-1A watch is the same material as that which was developed for the valves of the naturally-aspirated racing engine during the third era of Honda's Formula 1 participation (1998 to 2008). "As core components of a high-speed engine, valves must be light weight for high rotation, but also tough enough to resist breaking. That is why we decided on this type of material. Since it's an alloy, improvements are still being made in production methods, accuracy, and stability." (Yasuaki Asaki, HRD Sakura)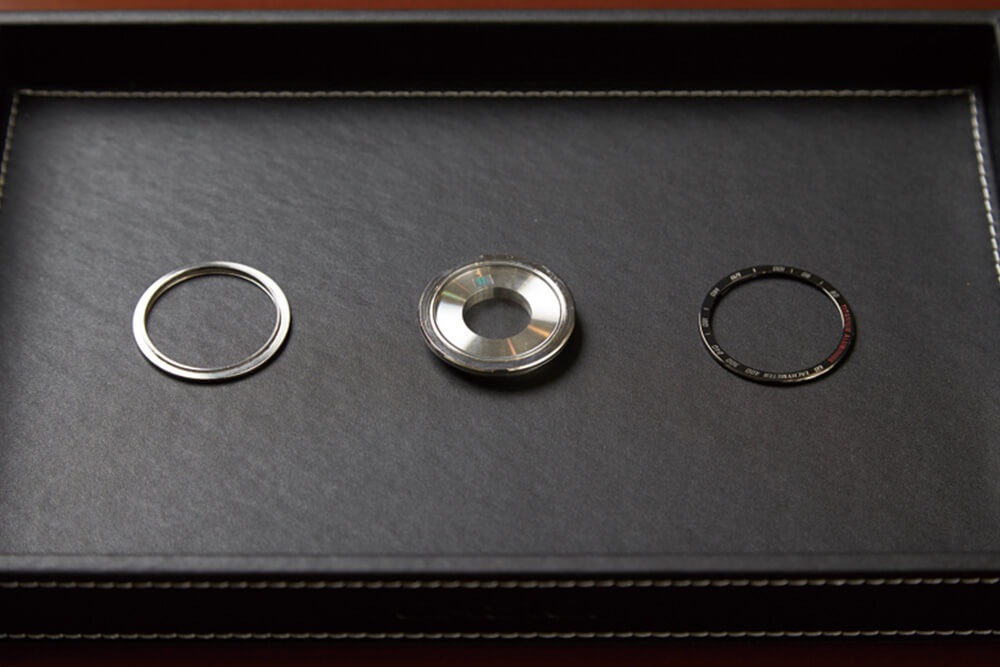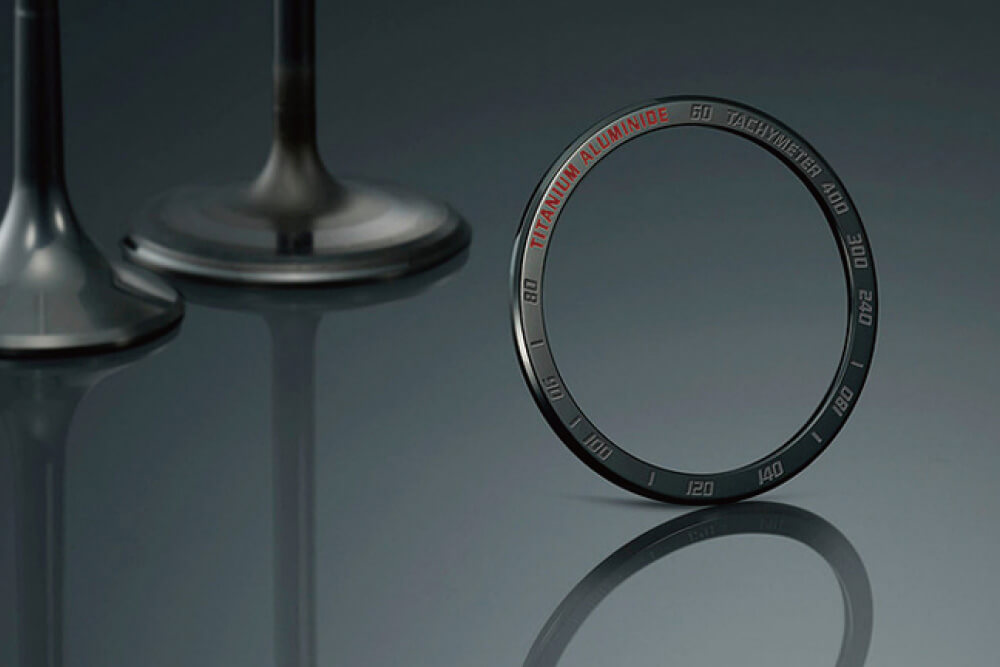 HRD Sakura
HRD Sakura is Honda's research centre for developing four-wheel motor sport technology. Its mission is to continuously advance Honda's motor sport activities and provide excitement to racing enthusiasts around the world and inspire their dreams.
A talk with Masashi Yamamoto, F1 Managing Director
A key man in the development of the collaboration watch with CASIO
Honda and EDIFICE
What is the major appeal of the newest Honda Racing watch version?

Creation of the CASIO and Honda Racing version got its start with a meeting at the 2017 Japan Grand Prix. Toro Rosso and Honda teamed up in 2018, which was announced at the Singapore Grand Prix in 2017. At that time, Team Principal Franz Tost informed us that CASIO was a Toro Rosso team sponsor, and asked if Honda might be interested in collaborating with CASIO in creating a new timepiece. As fate would have it, I was introduced to someone from CASIO right after that, and we decided that since we and CASIO would be involved in the Formula 1 field, we should do something together as Team Japan. From the very beginning we were completely on the same page with each other and we felt that Honda and CASIO should get together and do something that would appeal to motor sports fans in Japan. On a personal note, long ago we raced Honda F2 and Civic machines with CASIO colours, and these left a strong impression with me.
After that, the CASIO EDIFICE Honda Racing version was announced at the 2018 Japan Grand Prix, and now this new collaboration model, developed in close cooperation with Honda racing engine developers, has been completed for 2019.
For this new version, CASIO R&D personnel visited HRD Sakura a number of times, because they strongly felt that a collaboration model with Honda should be created by applying technology that Honda uses in the Formula 1 power units. Our development team also joined in the effort, which makes the result a collaboration model in the true sense of the term.
I heard that working with titanium aluminide is extremely difficult, but CASIO and Honda were able to overcome all the problems and together create a timepiece that incorporates the same material as a Formula 1 power unit. I think that this collaboration will establish a strong presence for these two Japanese companies in the world of motor sports.
Honda red colouring creates a great motor sports look. As for function, the watch easily establishes a Bluetooth connection with a phone for time setting updating, even while in another country, which is a capability that I myself actually use all the time and one I am happy to have. It's great to have function like this in a configuration that is thin and lightweight. Just like our experiences in the motor sports world, we get to actually feel technological advances while they happen.
* Bluetooth is a registered trademark or trademark of Bluetooth SIG, Inc.
* DuPont™ and Kevlar® are trademarks or registered trademarks of E.I. du Pont de Nemours and Company.
* Other trademarks and trade names are those of their respective owners.