The Scuderia AlphaTauri
collaboration model,
featuring a 6K carbon dial
Introducing a new model in the Scuderia AlphaTauri collaboration series that incorporates the same kind of 6K carbon fibre used in F1™ race cars. This limited-edition model features the team's colours and logo with fluorescent yellow accents.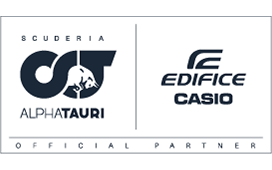 Our partnership
Scuderia AlphaTauri is a F1™ racing team packed with up-and-coming young drivers. The team changed its name for the 2020 season from Scuderia Toro Rosso to Scuderia AlphaTauri. With team driver Pierre Gasly's Italian Grand Prix win in September 2020, the Scuderia AlphaTauri team is gaining even more attention. The team brings its youthful energy, racing cars powered by outstanding technological innovation, and a passionate pursuit of speed to the F1™ circuit. Convinced that these qualities are a great match for the EDIFICE brand concept, Casio has been an official team partner since 2016. Casio and EDIFICE logos will continue to appear on drivers' racing suits, as well as on the nose sections of the team's race cars, for the 2021–2022 season.

Band
Retro-reflective sheet for team member safety.
Yellow zone
Special coloured zone to highlight the last 15 seconds as team members must leave the grid 15 seconds before the formation lap starts.
Stopwatch button
Side of the stopwatch button highlighted in fluorescent colour to support quick start of measurement.
Last lap indicator
Improved stopwatch measurement visibility.
Second hand
Improved visibility, since even a second too long on the grid incurs a penalty.
Highlighting team safety with the visibility of fluorescent yellow
Inspired by the clothing Scuderia AlphaTauri mechanics wear for safety while packing up after races, fluorescent yellow accents are applied to key components to ensure the high visibility required by team members.


6K carbon dial puts F1™ technology on your wrist
The dials of each of the three watches feature 6K dry carbon made of carbon fibre, providing you the pleasure of literally wearing cutting-edge F1TM technology. Just like the material used in the wings and floors of Scuderia AlphaTauri's F1TM race cars, this 6K carbon is produced with 6,000-filament bundles of carbon fibre. Ordinary carbon fibre is said to be ten times stronger than steel, and this high-grade version is about 50% stronger still.


Smartphone Link for the team's must-have functions
Automatic time correction via Bluetooth® and user-friendly world time functions provide support for Scuderia AlphaTauri as they juggle down-to-the-second race week schedules and collaborate with remote team members in distant time zones.
* Available on EQB-1200AT.
- Automatic time correction
Connects with a smartphone to adjust to the correct time four times daily on an automatic basis or with the push of a button. Perfect on the racetrack, which demands accuracy down to the second.
- 300 world time cities
Choose from approximately 300 cities in the smartphone app to set world time with ease, automatically adjusted for daylight savings time anywhere in the world. It's easy to switch the display between home time and world time, too. See the time at your home factory at a glance, no matter where in the world the Grand Prix schedule has taken you today.
- Stopwatch data transfer
Save up to 200 lap times and transfer to a smartphone, measured to the millisecond.
- Phone finder
Find your smartphone by making it ring with the push of a watch button. (Must be within Bluetooth® range.)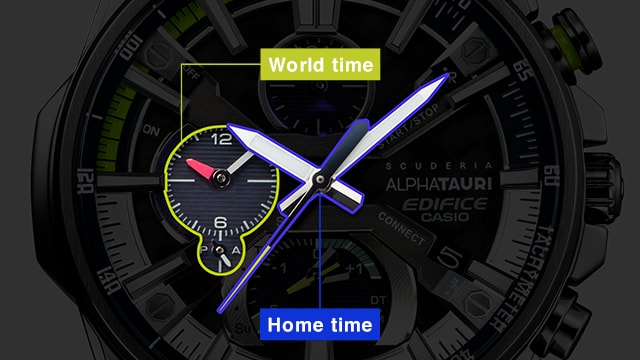 Dual-time display
View both your local time and the time in a city of your choosing on the same watch face. Use the smartphone app for easy home time/world time switching.
※ Available on EQB-1200AT.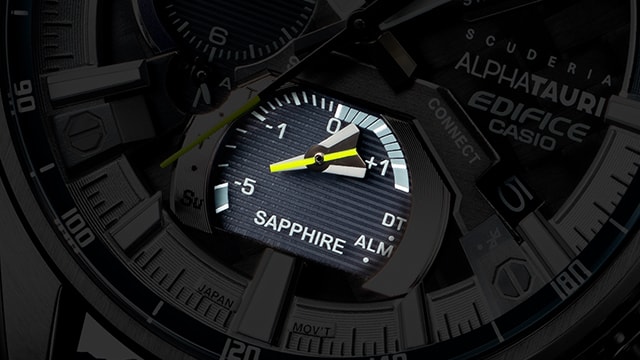 Last lap indicator
After measuring a lap time with the stopwatch, this function displays the difference from the previous lap time on the inset dial at the 6 o'clock position.
* Available on EQB-1200AT.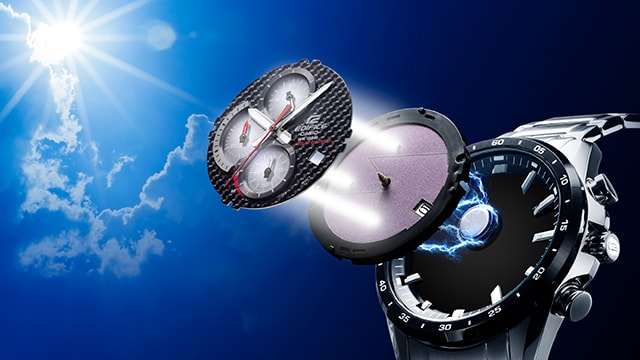 Inset dials alone transmit enough light to power the watch
The shadow-dispersing solar panel gets plenty of light through just the inset dials to power the watch, making opaque, 6K-carbon dial design possible.
* Available on EQB-1200AT.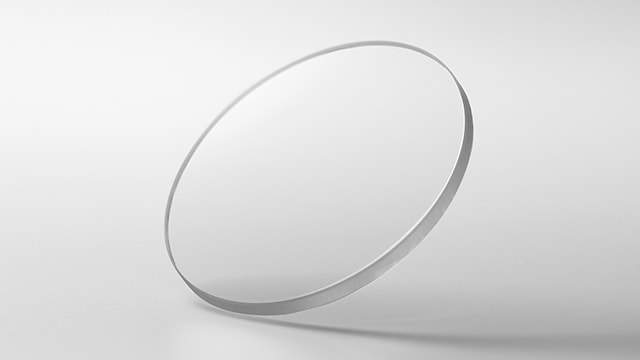 Sapphire crystal
To withstand the tough conditions experienced by racing mechanics, the glass is made from scratch-resistant sapphire crystal with a glare-resistant coating.
* Available on EQB-1200AT and EFS-S580.
Smartphone Link
EDIFICE Connected
Multiple functions, all at your fingertips
– Stopwatch data transfer
Uploads to-the-millisecond lap times to your smartphone. See lap time differences and fastest time at a glance.

– Automatic time adjustment (four times a day)
– World time for over 300 cities

– Home time/world time switching

– Alarm setting

– Phone finder
* The EQB-1000AT can connect with the push of a button, or four times daily on an automatic basis. The ECB-10AT will connect automatically when within range of a paired smartphone.
* Bluetooth is a registered trademark or trademark of Bluetooth SIG, Inc.
* Apple, the Apple logo, iPhone, and iPod touch are trademarks of Apple Inc., registered in the U.S. and other countries. App Store is a service mark of Apple Inc.
* Android, Google Play and the Google Play logo are trademarks of Google LLC.
* Other trademarks and trade names are those of their respective owners.